as i'm walking to catch my train this morning, with my hair slightly wet and in fear of my hair freezing, breaking off thereby leaving me bald ( but not in a cute natalie portman kind of way), i was distracted for a moment. that moment lasted just long enough for my "to do list" to be whisked away into the blustery wind. i didn't chase it, i just followed it with my eyes longingly. i took it as an omen that today would be subpar at best. since then i have been trying to recreate my to-do list from memory & this is what i have so far: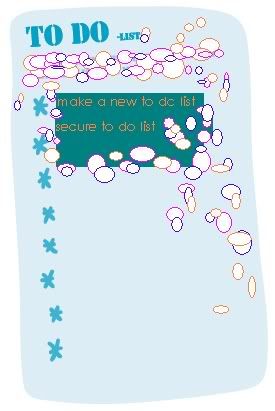 make a new to-do list
secure to-do list (anywhere safe from the wind, coffee spills, purse snatchers etc.
i had so much to do, but i can't remember what all that stuff was (i don't have the best memory!)...i guess i should have no reason to stress out right? in an ideal world that might be true, but now i am stressed about not remembering all the stuff i have to do. this is exactly why list-makers like myself should just give it a rest and go electronic. (sigh!)
4 Comments »