I have always been able to spot a fake Kate Spade bag a mile away. The same goes for most things, Louis Vuitton, Prada, Chanel and I'm sorry but the "GOACH" bags aren't fooling anyone. I consider the above mentioned examples to be counterfeit merchandise. You are pasting a Prada, Chanel, Kate Spade logo on merchandise and selling it for a discounted price all in order to give the illusion of authentic merchandise. I don't think the purse party patrons really believe their $30 "kate spade" bag is authentic, but if they can fool a few friends and family into thinking they have an expensive bag then they would probably consider the purchase well worth it. I've never been one to own any of the above mentioned merchandise. In fact I knew few girls who would be caught dead in Lake Forest, IL (i went to college there) carrying a fake bag. My own relunctance to carry a fake bag is probably attributed to my willingness to pay money for an authentic bag. Or, in the case that I don't have the money (yea, let's just call that the standard shall we??), I won't buy one immediately--instead I will worship it, visit it in the store, drool over the counter, and ultimately save up for it. (The same goes for sunglasses...my Chanel glasses are the only pair that are dear to my heart.)

Now the question of copyright protection becomes little complex when the products have no logo enscribed on it. If you rip the label off the fake kate spade, is it still in violation of the copyright? Today's New York Times article, "O.K., Knockoffs, This Is War" discusses this very issue. The MarieClaire "Splurge vs. Steal" section was addressed where they will feature a designer item and pair it up with similar looking item and less expensive item from the likes of Banana Republic, Gap, J Crew, Urban Outfitters, etc. Many designers are upset when their items are featured in the "Spluge vs. Steal" section, because on one hand they are happy their item was featured, but on the other hand the magazine editors are pointing all admirors to a cheaper alternative. We live in a celebrity obsessed where girls clamour to buy whatever Sienna Miller wore last week or even last month, but we also live in a society where people brag about getting the best deal--i bought this marc jacobs blah blah blah @ this sample sale last week for x amount of dollars. It becomes a question for the consumer, do you want the original in which you will shell out some major cash, or do you prefer the cheaper look-alike alternative? I think the designers are more worried about the people who can afford their designs, but really don't see the logic behind buying the "name" when they can get a quality product with similar features elsewhere. The example being: "Why should I buy the designer black strapless A-line dress for $1000 when I can buy a similar looking dress at Banana Republic for $198?" These are the people that the top designers are losing out to, but the people who can't afford the designer dress without skipping on rent are the ones that are going to more damanged by strictor copyright protections.


Zac Posen, Diane Von Furstenburg, and other top designers have been very busy lobbying congress (Mr. Posen was in Washington just this week)for a copyright law that would protect fashion designs for three years. The retail industry, Gap, Banana Republic, J Crew, Urban Outfitters, H&M, Zara, would be heavily hit by such an agreement. So, the dresses that are inspired by the runway and award shows that are nearly identical to the orignial would not be available for prom time...the girls would have to wait for 3 years before they got the look-alike Michelle Willams Oscar dress.

Both sides have great arguments, but it gets very messy trying to decipher what is and isn't considered artistic expression. Some cases of copying are more blatant than others. A.B.S. is a good example of this, and is probably considered a neimesis to most designers because he is making a ton of money on producing (and very quickly look a like dresses) however,i am going to venture out and guess that his dresses are being bought by people that would probably never even think twice about buying a $3,000 + dress unless it was for their wedding.

Regardless, most in the fashion industry would choose to disagree with me, and would maintain that this type of business practice hurts the luxury fashion market. I think it would be difficult to prove that the luxury fashion business has taken a hit as a direct result of look alikes. Look-alike fashion designs have always been common place in the American fashion industry. But, I think there needs to be some sort of protection for fashion designers. Especially for designers who continue to push the envelope and are creative geniuses. Copying some one line for line is wrong, and is generally bad for the fashion as innovative fashion will be sacrificed. Writing a good law on such a complex issue that will be kind to both retailers and top designers will be a difficult task. I expect Congress to try to emulate what the European union has already put in place overseas to protect designers there. I think this makes for an interesting debate! Please share your thoughts!!!


Two noteworthy quotes in the New York Times article:
"They are stealing at the expense of creativity. It's not fair or reasonable or correct to steal that design from someone."
~Valerie Salembier, the publisher of Harper's Bazaar
"It's not as complex as everybody's making it. To take somebody's design and make a line-for-line copy, that should be stopped."
~Stan Herman, the president of the Council of Fashion Designers
Examples: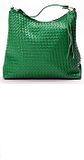 right a bottega veneta bag $1,650; left a bag @ urban outfitters for $48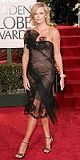 right charlize theron in a a dress by John Galliano for Dior; left a dress by A.B.S. for $306








A.B.S. purple dress that is nearly identical to a Zac Posen dress shown on the runway in 2004 available for $159 @ bloomingdales while the Zac Posen version is at least $1000.

3 Comments »